Are you thinking about how to start your t-shirt business in 2022? Well, we are not surprised if you are looking for ways to try yourself in this area. The global custom t-shirt printing market size was worth USD 3.9 billion last year. Moreover, it is expected to grow by almost 10% in the next 5 to 7 years.
The numbers are impressive, but not surprising at all…
T-shirts are a wardrobe staple for almost everybody. A classic, simple t-shirt is one of the most versatile items of clothing in a person's closet. But today, many people prefer to wear printed t-shirts, because they are exciting and look really trendy!
Because of that, many people are starting t-shirt printing businesses.
E-commerce websites and print-on-demand services make it easy to get started with a successful t-shirt business. Yet, there are plenty of nuances and details you should consider before launching a t-shirt printing company.
Whether you are looking for a side hustle, or you want to make a decent living out of the t-shirt printing business, this guide is for you!
Here, we will talk about 4 main steps you should make to start a successful t-shirt business.
Without further ado, let's dive into it!
Do a market analysis
If you are thinking about how to start your t-shirt business in 2022, it may be essential to find a niche market to serve right from the beginning.
We have already mentioned that printed t-shirts are becoming more and more popular. And, that's great news! But with increased demand, more and more companies are trying to find their place in the competitive market.
You won't be surprised to hear that it might be very difficult to make your T-shirts stand out from the crowd. That's why doing a market analysis will come in handy. But, how do proper market research?
Start with your customers! Find out who they are in terms of interests, preferences, age groups, and gender. If you already have a couple of designs in mind, share them on your favorite social media platform and see what your followers like.
Simultaneously, take a look at your competitors in the T-shirt industry. You should understand what type of t-shirts they sell, what the prices of their products are, and who they are targeted on. This is the important part if you want to find out which niches are still left unexplored!
Lastly, you want to explore this industry as a whole. Are there enough customers for you on the domestic market or you will need to sell internationally? How many new t-shirt printing companies are established every year? Are they successful? If not, why do they fail?
These questions will help you to understand what challenges to expect and which niches you should focus on. These answers will also be essential for selecting the right business model for your company.
Select your business model
A business model is your plan for making a profit. As we have mentioned above, your business model, among other things, depends on your product, type of customers, and their preferences.
There are many different types of business models you can use. First of all, decide whether your business will operate fully online or you will need to have a showroom. If you don't want to break the bank and rent out a space, consider having an online store.
Even if you decide to make it online, you still have a choice to make. You can create your own online store. But this option requires considerable financial and technical resources. Alternatively, there are numerous eCommerce platforms like Shopify and Etsy that you can check out to create your online store.
In addition, you can also think about a print-on-demand service. If you decide to do so, you will be able to work with a supplier who will sell your products under your own brand. Some of the advantages of this model include the fact that you don't pay for the product until after you've sold it.
Of course, you can think about other ways to launch a successful t-shirt business. But, regardless of your business model, you must think about how to make your t-shirt stand out from the crowd!
Think about your t-shirt designs
If you are wondering about how to start your t-shirt business in 2022, it is time to think about design aspects. Let's put aside the business side of things and start thinking about the t-shirts themselves.
If you are thinking of launching a t-shirt printing business there are two possible scenarios. Either you are just interested in trying something new or you already have specific designs or styles of t-shirts in mind.
If the first one is your case, don't worry. If you are not sure how your designs should look, a good start is to look at what is popular and currently selling well. Once again, check out your competitors' products. See what is on-trend right now. Then, think about how to integrate a sparkle of your own creativity into popular designs.
If you have design ideas, that's great! But unless you are a skillful designer, you will still need to find a good artist who will make your ideas come true. There are a wide variety of tools and marketplaces you can use to find a suitable graphic designer to help you. You can check out Behance or other popular platforms to find talented artists!
Think about printing methods
Let's assume that you have done your market research, selected the right business model, and came up with designs. Now, it's time to think about which printing techniques you will be using. You'll need to decide on which t-shirt printing technique to understand costs related to production.
For starters, each method of printing t-shirts has its own advantages and disadvantages. Each of them is suitable for a certain type and scale of production. For instance, one method might be suitable for ten t-shirts but almost useless when it comes to printing a hundred t-shirts.
You'll need to decide how many colors for each t-shirt design before selecting a printing technique because not all methods support the creation of multi-color designs at once.
We won't talk about each and every method of printing in this guide as it is a discussion for the other day. But if you need details now, you can check out this in-depth guide!
Conclusion
Thanks to E-commerce platforms and modern technologies, launching a successful t-shirt business has never been easier.
While the task may seem daunting at first, start with market research! Take your time to understand your customers, competitors, and the industry itself. Equipped with all necessary information, select the business model that is suitable for you.
Then, forget about business for a moment and think about t-shirts. Find inspiration for branding and design ideas and make them come true!
Written by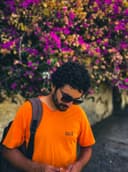 Hamid NOUASRIA
March 12, 2023