These days, corporate social responsibility (CSR) and environmental sustainability are more important to consumers than products and services.
This is excellent news for eco-minded entrepreneurs with sustainable business ideas! Let's reach out to statistics: 60% of internet users say they'll pay more for products that are eco-friendly
Sustainable business ideas or 'environmentally conscious' enterprises are committed to an environmentally sustainable future.
More and more start-ups and companies are embracing the high level of social responsibility of building a business process. In other words, many businesses are going green!
To start an eco-friendly small business yourself! First, you need to come up with a business idea that aligns with an environmentally sustainable future. In other words, your business goals and vision should be eco-friendly!
To provide some inspiration, here are 8 ideas for Eco-friendly small businesses.
1- Support sustainable fashion industry
Each year, 60 million tonnes of clothing are produced. Over-production & over-consumption are massive issues for the fashion industry. Moreover, consumers have an increasingly insatiable addiction to fast fashion.
The idea of sustainable fashion includes the revision of processes, such as production, distribution, and recycling. Put differently, to create a sustainable future, we need to change our conventional business methods… in terms of both producing & distributing clothes. For instance, reducing carbon emissions yielded during production, can have a positive impact on our planet.
A good example of this is Second-hand fashion and pre-loved clothing shops! Because they can be an amazing idea to support environmentally conscious businesses. Second-hand shops can market their products to potential customers on a variety of online marketplaces.
Finding a web developer to create an application for your vintage boutique might not be as difficult as you think. 
Second-hand stores are popular all over the world. Vintage clothing is not only sustainable and eco-friendly, but it also represents the biggest fashion trend of 2021.
Yet, vintage is not the only way to sell products that are environmentally friendly!
More and more small businesses are using recycled or renewed materials to create unique and beautiful pieces of clothing.
There are several methods to create clothes without using new materials. Upcycling and recycling are two popular ones. Upcycling is the process of transforming unwanted products and giving them a second life.
Whereas, Recycling is the process of collecting and processing materials that would otherwise be thrown away as trash.
Few young designers can afford posh fabric. And very few young consumers can pay for luxury materials. For instance, one of my favorite local designers sources old blankets and turns them into coats! Hand-embroidered with love.
You can't imagine how many compliments I've received wearing these coats.
2- Grow and sell organic food
Let's discuss more sustainable business ideas. Local food sales are growing rapidly in the U.S. and Europe. People are trying to purchase and eat more healthy, non-toxic foods and support local producers. 
Growing and selling locally is great for supporting small businesses and individual entrepreneurs. It also helps to reduce waste and its harmful impact on the environment.
Growing and selling organic food produces less waste than grocery producers do from packaging, large-scale production, and transportation.
Even if you have small land, you can set up a farm. In the beginning, you can start selling online and have a delivery service.
After that, you can even consider building a small shop near your property and selling your fresh goods in this manner.
If you can't afford your own shop, farmers' markets are a perfect place to set up a nice corner. Most areas have at least a few farmers' markets and their numbers are growing.
Yet another option to sell your organic food is local restaurants. Target those that serve organic food, and you will sell nicely. That's because organic products and foods are harder to source for most small cafes and restaurants.
These food establishments will likely jump to buy from a reputable grower year-round. This is a win-win deal, so long as you stay professional and responsible, and offer high-quality products. 
3- Open an organic restaurant
I mentioned organic restaurants in the previous section. Let's explore the idea of opening an organic restaurant in detail.
The popularity of organic foods and restaurants that serve them has skyrocketed in recent years. And there is a good reason for that.
The reason is that although purchasing organic food might be expensive for a diner… consumers are willing to pay more to eat in an eco-friendly and healthy environment.
Organic restaurants do benefit society as a whole. These businesses, although for-profit, have a positive effect on the food market. Not only do they create an opportunity for organic food substitutes. However, they also attempt to influence society to lead a healthier lifestyle.
This can lower obesity levels, which may lead to a better and healthier lifestyle. But it's not only healthy for us, but it is also beneficial for the earth we inhabit.
Organic agriculture habits and processes not only protect the planet but can even positively contribute to current environmental issues. When you invest in organic food for your restaurant, you help protect the environment.
For instance, organic farming develops healthy, strong soil. Healthy land is also more productive as it maintains soil nutrients and helps solve erosion-related problems. In addition, healthy soil encourages healthy biodiversity.
4- Support renewable energy
Another amazing green business idea is related to renewable energy. Using harmful and toxic fuels seems rather silly when we think about the abundance of renewable energy! Such as the sun or wind power.
Generating your own solar power is effective to reduce your dependence on coal, crude oil, and natural gas. When you export solar to the grid you can help your neighbors to green up their act.
Okay, renewable energy is great. But how can you transform that into business and profit? In addition to installation, you can provide maintenance, cleaning, and inspection services. As more and more people install renewable energy panels, such services will increase in demand.
You may also want to sell products yourself, or if you have the means, even produce them. The key challenge for renewables is funding. So, if you are looking for a good investment, you can look for a small renewable energy equipment manufacturer.
Of course, it is not necessary to manufacture your own green products to be a green business. If you're interested and passionate about sustainability best practices, consider becoming a green business consultant.
5- Design eco-friendly kids' toys
In the past, plastic was the go-to material used in toys for kids. But things have changed. In the last couple of years, there has been a push toward businesses being "environmentally conscious". That is why small businesses working on offering eco-friendly products are becoming more and more popular.
Even if you have very limited financial resources, opening a small eco-friendly toy store is more than possible. You can start an online shop. Get on Etsy or sell at local markets and bazaars in your area. Consider making toys from biodegradable &sustainably made materials and non-toxic paint.
You can start making toys even at home. Master your skills, buy needed types of equipment and eco-friendly materials – That is all you will need!
By doing this, you also help protect children's health by producing non-toxic & eco-friendly toys. That's because some toys are made of certain materials that can be unhealthy for children.
6- Produce recycled paper products
Posters, cards, flyers, and paper bags are always in demand. Think about how many times you wanted to buy nice, elegant packaging for your gift. It is difficult to find and people are always looking for that.
Furthermore, many countries around the world are also banning the massive use of plastic bags. This will naturally increase the demand for paper bags and other recycled materials. And with eye-catching branding, you won't have any difficulties finding loyal customers.
A huge factor in paper production is losing forest areas. Every year, millions of trees are taken down just to keep up with the demand for paper.
So, just think about how easily you can partner with local organizations like parks, green movements, or environmental organizations.
7- Green landscaping
As a green landscaper, you can positively contribute to climate change. For instance, you can design greener spaces that focus on the principles of reducing and recycling.
Your business can grow in popularity quickly as you appeal to many conscious customers. Those who desire earth-friendly solutions such as:
Conserving water.
Decreasing the use of harmful pesticides & fertilizers.
Utilizing native plants.
Because the basis of green landscaping focuses on planting with drought-resistant, local varieties of foliage. That's because they have a life span that works in harmony with the environment. Also, they adjust to the natural amount of sunshade and rainfall provided.
In addition, eco-friendly landscaping with native plant varieties reduces the need to use a lot of harmful chemicals on the lawn for pest control.
To sum up
There's simply no doubt – eco-friendly products are the way to the future. Our planet is amid an environmental crisis that affects everyone on Earth.
If you're an environmentally-conscious person with entrepreneurial skills, starting a green business could be the best decision of your life.
It's not only the right thing to do! But eco-friendly businesses increasingly attract more attention and funding from donor organizations and banks. Thus, securing financial resources can be easier if you are pitching environmentally conscious ideas to potential investors.
Written by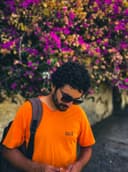 Hamid NOUASRIA
March 7, 2023