It goes without saying, I know! However, I must say once more: you cannot grow your business online without social media. In fact, most successful businesses & brands have established a strong online presence thanks to social media marketing.
If you're a business owner yourself, I bet you already understand this. Social media is a powerful marketing tool for every business/brand out there. And if it is harnessed properly, it can work wonders!
Still, the secret to success on social media lies in having an effective strategy. This brings us to the question of how to build a social media marketing strategy.
The answer to the above question is in this article. We will show you step-by-step how to develop a social media marketing strategy that meets your business objectives.
Let's dive in!
Steps to develop an effective social media marketing strategy
Set clear goals
The first step to creating a social media strategy is setting clear goals. Ask yourself what you want to achieve from your social media marketing efforts. For instance, if you're an e-commerce website, do you want to boost sales, increase your brand awareness, or improve audience engagement?
This means setting goals helps determine why and how you're going to use social media to achieve your desired goals. It also helps you identify the right metrics to gauge your progress & performance.
Above that, setting goals is key to choosing the best tactics and building a strategy that addresses your business objectives. In other words, having clear goals is the blueprint of your strategy. It dictates what kind of tools, practices, and tactics to use for your social media marketing.
When setting your social media goals, focus on metrics that directly grow your business online. These metrics must align with your business objectives and the end results you'd like to reach. This will help you avoid vanity metrics that add no value to your business growth & success.
A good example of vanity metrics is having thousands of followers and likes on your socials. However, your conversion rates are low, sales are poor, and there is no traffic coming to your e-commerce website. In this case, having thousands of followers and likes means NOTHING!
How to set goals
A rule of thumb: your social media goals must be measurable and work as KPIs. Now, KPIs stand for key performance indicators. These are metrics that help you measure your progress & performance on social media. KPIs are essential to track your growth over a period of time. They offer data to help you assess the level of your social media marketing success.
Most common KPIs for social media marketing:
Brand awareness: It can be measured through impressions, clicks, shares, tags, mentions, engagement, and reach.
Engagement: this can be measured through DMs, clicks, saves, and shares.
Traffic: Page views, CTR, and swipe-ups.
Leads: contacts, booked appointments, business inquiries.
Conversions: subscriptions, completed surveys, sales, and contest entries.
Now, when setting your goals, make sure they are S.M.A.R.T.
S.M.A.R.T stands for specific, measurable, achievable, realistic, and timely. In a nutshell, S.M.A.R.T is a metric that helps us set effective goals, and this is perfect for social media marketing.
You can rely on this metric to set clear and effective goals and avoid vanity metrics.
Research your target audience
You cannot develop an effective strategy without understanding what type of audience you're talking to on social media. Your target audience includes people and customers that are most relevant to your brand. And Identifying this audience is essential to succeed online.
Moreover, identifying your audience is essential because it determines how you're going to communicate online. It will give you an idea about what kind of content and messaging speaks directly to your audience.
In other words, you should create a profile of your target audience and ideal customer. This will help tailor your content and message to reach the right people.
Ask yourself:
What are the age groups that I am targeting?
What kind of interests does my target audience have?
What are the gender groups that are most relevant to my brand?
What does my target audience like and dislike?
Answering the above questions will give you a good idea about the audience you're targeting! If you have difficulty finding answers, you can use analytics tools.
For instance, if you have a website, you can use Google Analytics to gather insights about your audience. This will help you identify what kind of users visit your website, their ages, interests…, etc.
Accordingly, you can use those insights to find the right audience to target on your social media.
A common mistake that you should avoid is trying to reach everyone and going too broad. When you try to reach everyone, you end up reaching no one. Always identify a specific demographic/ audience to target online. In the end, those are the people that are most relevant to your brand and what you're selling.
Competitive research
Competitive research AKA competitor analysis is all about studying your industry-related competitors on social media to identify opportunities for your brand growth.
Competitive research helps you spot your competitors' strengths and weaknesses and provides data about how they grow their brands on social media.
This will help you understand how these brands succeed online, who is your target audience and what makes it interested in your competition.
In other words, competitive research is all about gathering information and understanding how the game is played. So, it helps you develop your own strategy that outperforms your competitors online.
A good way to do competitive research is to:
Find accounts of brands in your industry or at least similar to your industry. Try to look for brands that are doing great and have a strong social media presence - that's your competition.
Normally, industry-related brands target your same audience. However, try to find competitors that target exactly the same audience that you're going after.
What can you learn from your competitors?
The techniques they use to promote their content on social media.
How often & when do they post their content?
The types of content they're posting. Are they posting videos, reels, images, shorts, carousels…, etc?
What kind of messaging they're using?
What social media channels they're leveraging to promote their brands?
Understanding what your competition is doing will give you an idea about what you should be doing as well.
However, not everything that works for your competitors will necessarily work for you. Therefore, always keep your brand essence in mind, and come up with a strategy that works specifically for your goals.
Do a social media audit
A social media audit comes in handy when you already have an existing presence on social media platforms. Performing this will help you identify what's working and what's not. This step involves analyzing your social media insights & metrics to gauge your growth and performance online.
Moreover, performing an audit helps you measure the progress of your growth on social media over a period of time. It gives you quantifiable data to compare your performance now with your performance 2/3/5 months ago.
A social media audit can help you identify:
The pace of your following growth. Are your followers growing fast or slow?
Are there any specific periods (days, months…) in which you've gained or lost followers?
What type of content generates the most engagement?
What type of content format works best?
What type of content pushes your audience to take an action?
What are the demographics of the audience that is engaging with you on social media?
A social media audit is essential to improve your overall strategy. It is key to know what's working and what needs to be changed. Think of it as a troubleshooting tool to uncover problems that must be fixed and the aspects that should be improved in your strategy.
Create a content calendar
A content calendar is important to post engaging, relevant, and interesting content for your audience. When it comes to your social media strategy, a content calendar is essential to share consistent and high-quality content to achieve your strategic goals.
Apart from that, having a content calendar is an effective tool to boost your productivity. In other words, it saves you time, increases your content production, and keeps you consistent.
And as you know, consistency is a must to grow on social media. If you're not sharing content & engaging with your audience consistently, it is nearly impossible to grow on your social channels.
Tips to create a content calendar
Define your goals: Normally, planning your future must be based on your strategic goals. After all, your goals determine what kind of content to produce and the right format to use.
Create a suitable template for your content calendar.
Choose the channels you're going to use. Always, choose channels where your target audience is most active. That's where you should share content.
Plan your content based on a calendar year.
Fill in your calendar with relevant content ideas for future use.
Exploit your evergreen content. This will keep your social media posts always relevant to your audience.
Repurpose content. For instance, if you have shared some content on only a few social media channels, you can share that same content on all of your other social channels. In case you have content that isn't used yet, you can share it too.
Set a realistic publishing frequency. This means how often & when you should publish content depending on your calendar.
You can use the above tips and other scheduling tools to design a suitable content calendar! Remember: your content calendar doesn't have to be fancy.
You can use a simple tool like Google sheets or something similar to plan your content.
Final thoughts
By now, we hope you have a good idea about what is a social media strategy and how to use it to grow your brand online. Remember! Social media is just a tool. So, the difference lies in how you use it to achieve your business goals.
Also, don't expect good results so quickly. A social media strategy takes time to work. So, don't feel frustrated in the beginning. Keep grinding and consistently publish engaging, relevant, and high-quality content.
One last thing, always update your strategy and make sure it is aligned with your goals.
Written by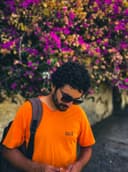 Hamid NOUASRIA
March 12, 2023